GEORGE HARRISON
(1943, February 25th - 2001, November 29th)
CHILDHOOD
He was nicknamed "the Quiet One" or "the Polite One" though he always said that when he didn't agree with the others, he would assert his opinion clearly. George's father was a busdriver (that's why he will take the buses in horror later on and won't understand Paul's nostalgia not to be able to take the bus any more just like ordinary people during the Beatlemania) and his mother was a housewife. He lived till 6 at Wavertree, 12 Arnold Grove. At 6 he moved to Speke in a bigger council flat with his elder sister and brothers (they were 4 children in all: Louise, Harold, Peter, George.). As he was the younger one he was also the one who required the biggest attention
TEENAGE YEARS
He was the only one who went his studies on to high school. He was accepted in the prestigious Liverpool Institute where he was a rather bad student, despising his teachers. Finally he found a situation as an apprentice electrician. George's mother bought a guitar for him from another student and a guitar tutor. She encouraged him a lot to learn the guitar to go so far as to spend whole nights helping him till he had bleeding fingers.
BEATLE GEORGE
First he felt so excited by success, screaming fans and fame, but he soon got tired of the stupid journalists and photographers that daunted nothing in order to get a scoop. That's why he wanted his future wife Patti Boyd (Patricia Ann Boyd) to give up modeling to avoid the photographers. He met her during the shooting of "A Hard Day's Night" in 1964. He marries her on January 21st, 1966 at Epson. Paul is the only Beatle present at the wedding.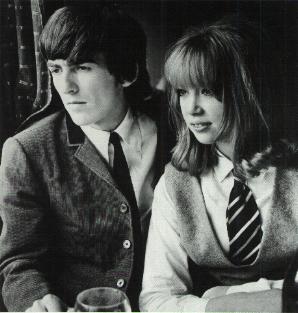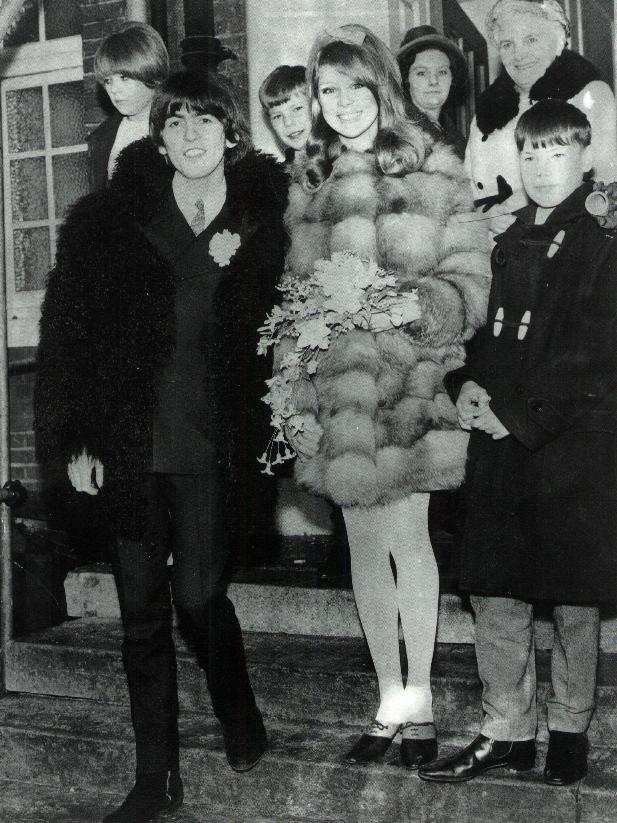 Sept- Oct 1966: George travels to India with Patti.
1967: George travels to Bombay to make the music of the film Wonderwall.
1969: Electronic Sounds solo album.
March 13th 1969 : George and Patti are arrested for possession of cannabis.
EX-BEATLE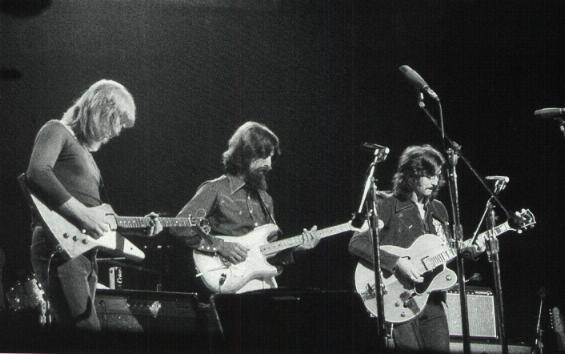 Concert for the Bangladesh.
1970 : release of the triple album All things must pass. This album gathers plenty of songs that George had written in the latest Beatles' years, as Not Guilty(also on the 3rd Anthology). It is a success.
1971 Aug 1st : George takes part to concert for the Bangladesh and UNICEF with Eric Clapton at the Madison Square in New York. Most of the money never finds its way to Bangladesh.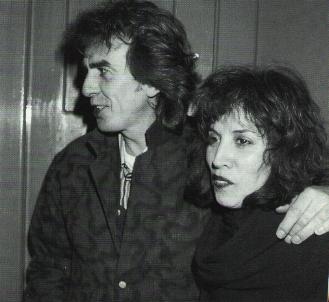 George and his second wife, Olivia.
Divorce Patti Boyd, who marries George's best friend Eric Clapton in June 1976 in the USA. Exceptionnally, George, Ringo and Paul played together again at the wedding.
1 year later he marries Olivia Arrias.

1974 : album Dark Horse. George tours in North America for the first time since 1966.
1977 : album 33 1/3
1987 : album Cloud nine is a success.
1999 : A mad youth armed with a stab intrudes the Harrisons's home in the suburbs of London and succeeds in injuring George several times. Wife Olivia fights with him until the police arrives.
2001 : Re-release of All things must pass.

2001, Thursday, November 29th : George Harrison dies of a brain cancer.