JOHN LENNON'S BIOGRAPHY
(1940, October 9th - 1980, December 9th)
CHIDHOOD
John Lennon was the only Beatle who enjoyed the privilege of growing in a middleclass background.
His father Alfred Lennon (a.k.a. Freddy) was a seaman and an orphan. He married John's mother, Julia Stanley, just before the 2nd World War burst out, then was drafted on sea. He hardly saw Julia and the little John till the latest reached 5.
Then Freddy returned and Julia announced him clearly that their relation was over. Despite all this, Freddy took John to Blackpool on holiday with the intention not to let him go. Julia joined them there to bring back little John with her and started an argument. Poor little John had to choose who to go with and first chose Freddy. Yet as Julia went out crying, John caught her up and stayed with her in the end.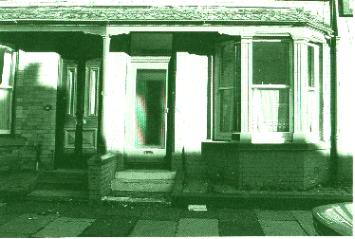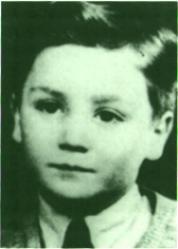 Home sweet home. - At 5.
John lived at Penny Lane with his parents till he was 5.
Because of her eventful private life (always going out late at night, dancing with soldiers in pubs...), Julia couldn't look after John and left him to his older sister Elisabeth (John will call her "Aunt Mimi"), and her husband George Smith who were living in a comfortable house with a garden in the residential district of Allerton (or Woolton: it depends on the point of view) 251, Menlove Avenue. Moreover she met and married next John Dykins who didn't want someone else's child at home.
John attended the Dovedale Primary School then the Quarry Bank Grammar School, and was especially known as a class disrupter, though he was among the best pupils in the very beginning of the Quarry Bank years.
His tastes in reading were not the ones of the syllabus: R. L. Stevenson, Oscar Wilde, Lewis Carroll, E.A. Poe...
The first event which ruthlessly marked was the death of his stepfather George on June 5th, 1952, as John was 12. He died of a sudden hemorrhage.
The Rock'n'roll's appearing on the Brit scene soon became his passion and the 16-year-old John changed into a "Teddy boy": tight trousers, long coat, and hair plastered down backwards.
TEENAGE YEARS
John fell in love with Rock'n'roll at 16, when his mother made him listen "Heartbreak Hotel" by Elvis. In 1957 he formed a band with some mates: the Quarry Men, who he could play skiffle with.
He was just renewing a relation with Julia when she got run over on July 15th, 1958, by a policeman that had just gotten his driving licence and who confused accelerator and brake. Her death triggered a deep depression. John became alcoholic and violent. Rock'n'roll became his only lifeline. Thanks to his special gift for drawing and also to his new headmaster, who wanted to understand and help him, John was admitted in the Liverpool Art College, where he besides met his future wife Cynthia Powell and his future bassist and best friend Stuart Sutcliffe.
1961 Oct : For his 21th birthday, John gets £100 from an aunt. He decides to travel to Paris with Paul.
There he meets a German friend, Jurgen Vollmer, who arranges John and Paul's hair at the French fashion.
MARRIAGE - BEATLEMANIA
1962 : John marries Cyn at Mount Pleasant. Paul is his best man. She was pregnant and the best thing to do was to marry her, according to John and also under the pression of manager Brian Epstein.
His first son John Charles Julian Lennon was born a year later on April 8th. John will regret that he didn't have enough time to spend with them between two tours. It's especially Paul who will care about Julian.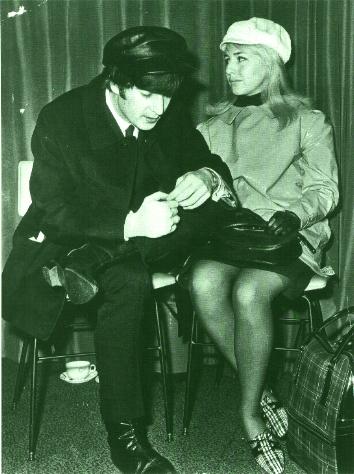 John and Cynthia in 1964.
1963 March 25th : John publishes his first book In His Own Write. He will receive an award for this book at the prestigious Foyle's.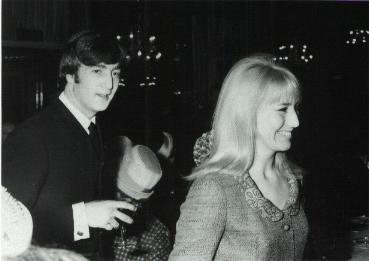 Invited at the Foyle's.
1964 July : The Lennon family settles in Weybridge at Kenwood.
1965 Jan 9th : John reads his poems in Not only... but also on BBC2.
1965 Feb 5th : He gets his driving licence.
During the Help! period, John will say that he was in his "Fat Elvis period".
1965 June : John becomes a MBE (Member of the British Empire) and gets his medal on Oct 26th 1965.
1965 June 24th : John releases his second book : A Spaniard in the works.
DRUGS AND PEACE
1965 Oct : first drug experience at a dentist friend with Cyn, George and Patti.
After having said to the journalist Maureen Cleave that "The Beatles are popular than the Christ", John makes critics break loose. The Ku-Klux Klan burns discs, photos... of the Beatles in public.
1966 autumn : John plays the part of the soldier Gripweed in Richard Lester's "How I Won The War".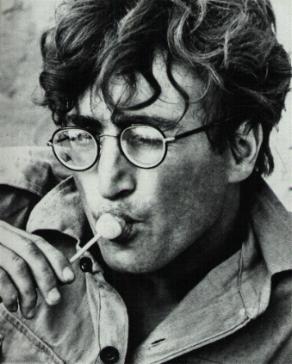 Soldier Gripweed.
1967: John meets avantgarde artist Yoko Ono for the first time at the Indica Gallery of Londonwhere she held a display of art.
1967 Sept : John produces Yoko for her showing Yoko plus me at the Lisoon Gallery.
1968 : album Two Virgins with Yoko.
1968 Oct 18th : John and Yoko arrested and judged for possession of cannabis.
1968 Nov 8th : Cyn divorces John.
1968 Dec : John takes part in the film "Rock'n roll circus" with Eric Clapton, Mitch Mitchell, Keith Richards, that was never released because of juridic and artistic problems.
1969 Mars 20th : John marries Yoko in Gibraltar.
1969 May 4th : John buys Tittenhurst Park
1969 May 25-31th : first bed-in in Amsterdam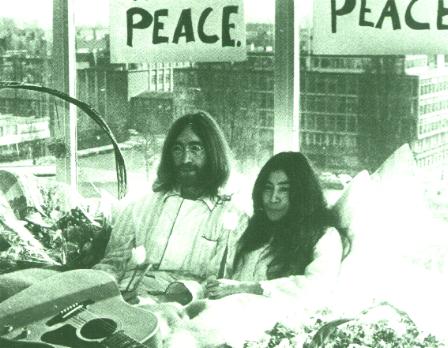 Hair peace, bed peace in Amsterdam.
1969 June 1st : second bed-in in Montreal
1969 Aug 28th : John and Yoko have a car accident in Scotland and have to be hospitalized.
1969: John sends back to the Queen his medal of MBE to protest against the English policy in Biafra and in Vietnam.
EX-BEATLE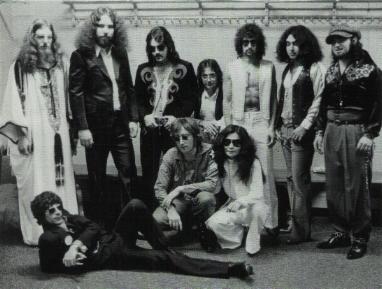 1970 Oct 9th : John creates the Plastic Ono Band (he and Yoko are permanent members).
He practices 4 months (April to August) of the "Primal Scream" therapy.
1970 Dec : First solo album, John Lennon / Plastic Ono Band
1971 Sept : album Imagine.
end of 1973: the "Lost Week-End" with secretary May-Pang and lots of alcohol for 18 months at Los Angeles. He makes 3 albums : Mind Games, Walls and Bridges, Rock'n roll.
John and Yoko are reconciled in Nov 1974, after the concert of Elton John where John played.
1975 Oct 9th : Birth of Sean Taro Ono Lennon.
1976 July : John becomes permanent resident in the USA. He settles with Yoko and the baby in the Dakota building for good. He will spend 5 years as a "house-husband", bringing Sean up.
Yoko looks after the business. She buys 3 farms in the Delaware (USA) : Argyle Farm, Betts Hill Farm, and Tyrbach Farm.

1980 Aug : John takes up his musical activity again. It's a new beginning for him. He writes half of the songs of the Double Fantasy album and Yoko writes the other half.
1980 Dec 8th : John is shot dead by a fanatic, Mark Chapman, in front of his hotel in New York, the Dakota building.
1980 Dec 10th : His body is incinerated in New York.
1984: posthumous album Milk and Honey.