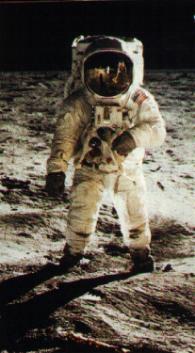 1969 : Neil Armstrong on the moon.
Painting by Deneika, 1961, USSR. - The race for space
After the Hitlerian defeat, the victors grabbed the German scientists to help in their scientific programs such as their research in military defence against either the communists or the capitalists, or in the race between USSR and the USA for space conquest.... USSR had the first artificial satellite in orbit around the Earth (1957 : Sputnik), the first living being in space (the dog Laïka), and the first man in space. 1959 USSR : Luna1 escaped the earth attraction.
1961, April 12th : USSR put the first man (Youri Gagarine) in space.
1962 : USA : John Glenn in space.
1966 USA : Surveyor1 landed on the moon. 1969, July 21st : USA : Neil Armstrong and Edwin Aldrin embarked in Apollo 11 and landed on the moon ; "That's one small step for man, one giant leap for mankind" said Armstrong to the medias.