PAUL MACCARTNEY
(1942, June 18th)
CHILDHOOD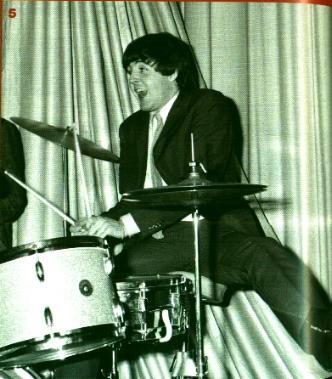 Paul's father was a Protestant cotton salesman (James) and his mother was a Catholic midwife (Mary). They married very late and had Paul in their forties.
He had a brother, Michael, born on Jan 17th 1944.
His family was very united and relatives would often visit and have fun at home (20 Forthlin Road. Nowadays it is property of the British National Trust, purchased for its importance in the 20th century culture (!!!))

Paul attended in 1952 the Liverpool Institute. Contrary to the other Beatles, Paul was a good student, liked by his teachers and friends (who called him a college pudding). He already had his special charm (the Maccacharm !). Moreover he was musically encouraged by his father, the former leader of a jazzband and could take advantage of the piano.
TEENAGE YEARS
Nevertheless, when his mother died of a breast cancer when he was 14, on Oct 31th 1956. Though he never showed his grief, he often cried before getting asleep. It's at that time that his passion for guitar and rock'nroll was born.. He had got a trumpet from his dad in the first place but realized he couldn't sing with this stuck in the mouth so that he changed it with a Zenith guitar. Since he was left-handed and soon saw that he couldn't play it he inverted the order of the cords.

It seemed that Paul was gifted for everything : he knew how to play all the types of guitars and also some little drums. Moreover he will replace Ringo on drums in "Back in the USSR" (The White Album) and in "The Ballad of John And Yoko".

During the summer of 1957, at the holiday camp of Filey (Yorkshire), Paul sang and played for the first time in public. He sang Bye bye love (Everly Brothers)with his brother, and Long tall Sally (Little Richard), alone.
In 1958 he composed When I'm 64, that will appear on the Sgt Pepper album.
BEATLE PAUL
1963 : Paul met his future official fiancée Jane Asher during a TV show called the Juke Box Jury. They separated in 1968 just after the Indian trip to Rickishesh.
Paul and Jane at Alfie's premiere.
1965 Oct : Paul becomes a MBE ( Member of the British Empire). Later on he will be knighted.
1965 : Paul buys his St John's Wood's house in the centre of London (contrary to the other Beatles who preferred the suburb) and organizes its restoration.

1966 Sept-Oct : Paul composes the music of the film The Family Way, and goes on holiday in France, in Spain and in Kenya.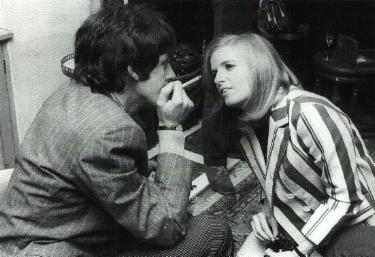 1967, May 19th : Paul meets Linda Eastman (whose name has nothing to do with Kodak.) during the launching of Sgt Pepper at Chapel Street (at Brian Epstein's).
1967 June : Paul admits to take LSD.
1967 Dec 25th : Paul and Jane becomes fiancés officially.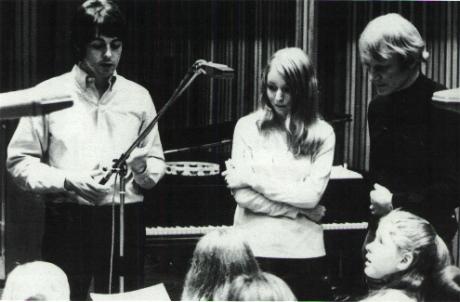 1967 : Paul produces Mary Hopkins with her album Postcard and her hit "Those were the days".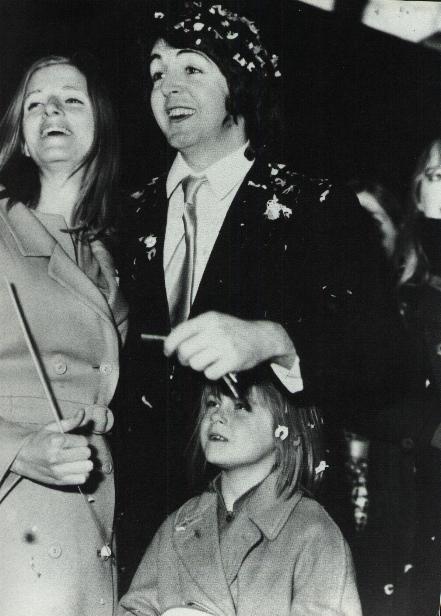 1969, Mars 12th : Paul marries Linda.
1969 Aug 28th : Paul has his first daughter Mary.
1970 April 10th : Paul announces to the press that he leaves the Beatles definitely.
EX-BEATLE
1970 April 17th : Paul releases his first album solo: McCartney.
1971: Paul creates a new band: Wings
1979 The Guinness Book of Records gives him a Rhodium disc (rhodium is rarer than gold and platinum) as most popular composer and owner of the biggest collection of gold discs (60 in all, 62 with the Beatles, 17 with the Wings, 1 with Billy Preston). Paul had sold 200 millions discs.
1971 May 21st : Ram album that annoyed Lennon a lot.
1971 Dec : Wild Life album
1972 Jan 8th : first tour of England of the Wings. They gave concerts in universities.
1972 Feb : Give back Ireland to the Irish is Paul's first political protestation against the English troups in Ireland.
1973 April : Red Rose Speedway album
1973 Nov : Band on the run album : stayed several months at the top of the hits.

1975 May : Venus and Mars album

1977 Sept 12th : Birth of James Louis McCartney.
1977 Nov : Mull of kintyre was a hit and had more success than She loves you.

1980 Jan 16th : Paul was arrested for possession of 200g of cannabis by the Japanese customs officers. To avoid a diplomatic conflict with England, Paul was released all the same within 10 days of prison. Paul had run the risk of staying 8 years in prison! We could remember his short time spent in prison with Pete Best in Germany after having lit a little fire behind the Bambi Kino !
The tour in Japan was cancelled, the concerts repayed, and it was the end of the Wings.
1982: Paul collaborate with Michael Jackson on songs like The girl is mine, Say Say Say, The Man. Later when Northern Songs, the society that had all the Lennon-McCartney songs was on sale, Paul and Yoko coulnd't find an agreement to buy it and Michael bought it. The repertory Lennon-McCartney was more in his possession than in Paul's. Nowadays I heard that these songs are not in Michael's possession anymore but was bought again by another society.
1984: Paul makes the film Give my regards to Broadstreet. It didn't have a lot of success.
1991 Oct : Paul McCartney's Liverpool Oratorio.
Classical production that Paul made with the American conductor Carl Davies for the 50e birthday of the Royal Philharmonic Orchestra. It was released at only 500 000 copies worldwide.